Although Charles Williams is known more for obscurity and difficulty than for compelling drama, he was capable of the latter, and wrote a few "unusually intelligible" Nativity plays. These include Seed of Adam (1936), The Death of Good Fortune (1939), The House by the Stable (1939), and Grab & Grace (1941), all of which you can get on Faded Page via the links I've embedded in the titles.
This being CW, the plays are quite strange–but I find them powerful and moving. The House by the Stable is particularly accessible and could be easily performed. In fact, some friends got together with me over Zoom to read this play aloud two years ago (December 18th, 2020). The cast only calls for six actors: MAN, PRIDE, HELL, GABRIEL, JOSEPH, and MARY. Here are some notes from Anne Ridler's introduction to Seed of Adam and Other Plays (1948), p. ix:
The House by the Stable was one of "three plays" which "were written for Ruth Spalding's company at Oxford."  Spalding "was then beginning to form the company which first worked in association with E. Martin Browne as the Oxford branch of the Pilgrim Players." THS was "written and produced in the autumn of 1939." The manuscript bears the date October 26th, 1939. After the Oxford performance, "the same company gave performances of The House by the Stable in halls, air-raid shelters, garages, churches, schools, and theatres in many parts of the country."
Maybe you could get five of your friends or family members together and read this play for Christmas! If you do, please let me know how it goes. It seems that it was once filmed for Australian television?? Does anybody know more about that? Taylor University put on a production in 1964; I rather suspect that Joe Ricke has done readings of it since then. The Davidson Community Players in North Carolina performed it in 1966; a few other colleges and local companies have put it on. I'm surprised there haven't been more. It's simple to stage with a small cast, a simple plot, and compelling moments. Anyway, try it out!
The others are less straight-forward, but still fabulous. Grab & Grace is a sequel to House by the Stable. The Death of Good Fortune is not really a Christmas play; I'm stretching things quite a bit to include it here. It's more of an Easter play, but it does feature this baffling and beautiful speech by Mary:
Before the advent of the necromantic kings
in the beginning, I saw a star sliding,
shining, guiding their god-divining caravan.
Its name was called TYXH, its flame was fortune,
its messenger and shape on earth was this lord here [Good Fortune],
whose sphere above attended my Son's birth….
I don't know about you, but I find "the necromantic kings" to be a pretty astonishing description of the Magi, even rivaling W. B. Yeats's strange characterization of those wise men: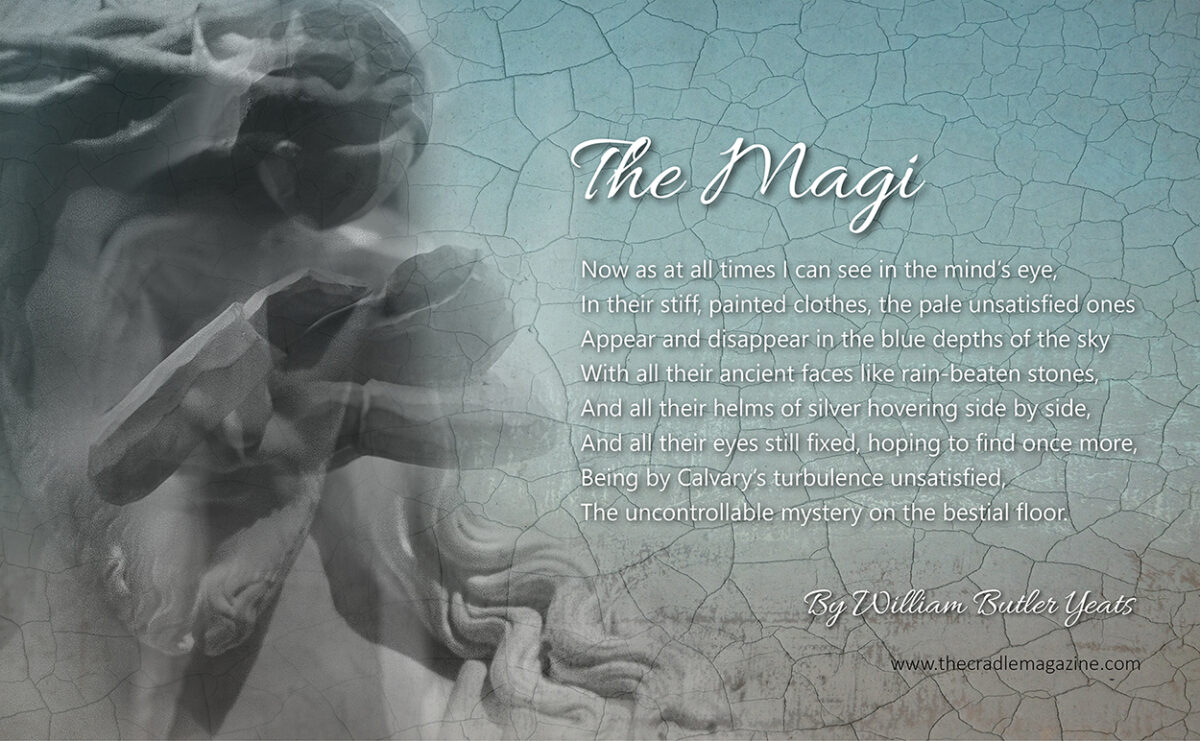 And identifying the Star of Bethlehem with the Greek goddess Fortune is a bold move, too. But that's what our boy is about.
Okay, and then there is Seed of Adam, the earliest and weirdest of the bunch. I've written about it previously here. Its necromantic kings are microcosms of various earthly cultures or kingdoms: Gaspar, the "King of Gold," he calls"The Tzar of Caucasia"; tradition associates Gaspar or Caspar with Tarsus or Turkey. Williams makes Melchior, "King of Frankincense" the Sultan of Bagdad, which is more or less consistent with his traditional origin in Saudi Arabia or thereabouts. His "King of Myrrh" is king of nowhere in particular in the play, but is called (in the diction of white Englishmen of the 1930s) "a Negro"; Balthazar is often portrayed as hailing from Africa. This Third King is identified with the Apple that Adam and Eve ate in Eden, and from his seed sprang Hell. Hell has now come to devour Adam, Eve, and all the human race alive–and she's especially keen to munch on Mary. Mary and the Hell-woman have a sword fight! A sword fight! Isn't that awesome? Mary wins, and Hell then serves as her midwife, assisting her to give birth to the baby Jesus–the true Seed of Adam.
Whew!
Okay, so I hope that you have the merriest of Christmasses, avoid the plague, and read some Charles Williams. Happy Holy Days to you and yours.